Stone Coated Metal Roof Tiles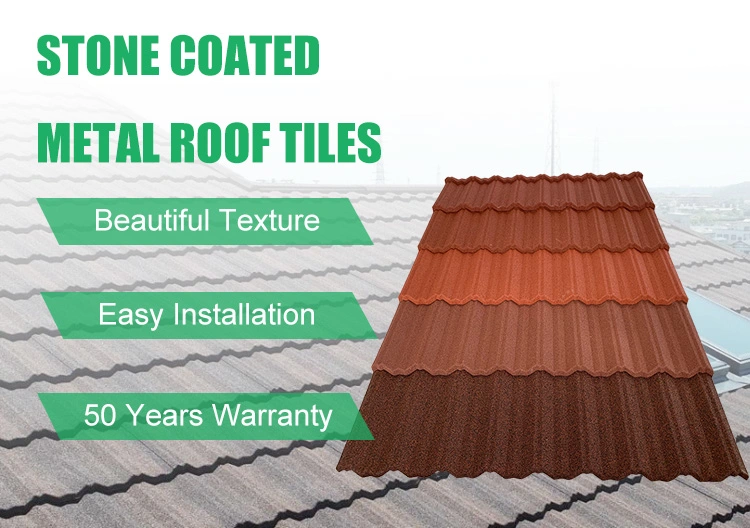 Stone coated metal roof tile use aluminum-zinc plated steel sheet (also call galvalume steel and PPGL) as the substrate, covered by natural stone chips and acrylic resin glue. The weight is only 1/6 of the traditional tile and it is easy to install.
Because the warranty of stone coated roof tile could be up to 50 years and the design are modern, so more and more countries choose it as a preferred roofing material, such as the USA, Canada, Indonesia, Sri Lanka, South of Korea, Nigeria, Kenya and so on.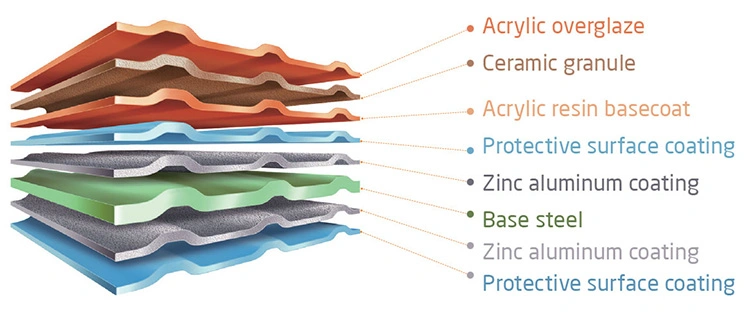 Specifications
Product Name

Stone Coated Metal Roofing Tile

Material

Galvalume steel(Aluminum-zinc plated steel sheet=PPGL), Natural stone chip, Acrylic resin glue

Color

Black, Grey, Red, Blue, Green, Customizable

Tile Size

1340x420mm, AND Customizable

Effective Size

1290x370mm

Tile Coverage

0.48m2/pc

Tiles per m2

2.08pcs/m2

Thickness

0.30mm, 0.35mm, 0.40mm, 0.45mm, 0.50mm

Tile Weight

2.20-3.20kgs/pc

Certificate

SONCAP, COC, UL, ISO9001, ISO14001

Applications

Residential, Commercial Constructions

Advantages

1. Excellent durability and waterproof
High-quality aluminum-zinc plated steel sheet and natural stone chips coating with acrylic resin glue make stone coated roof tile has superior corrosion resistance and waterproof characteristics. The warranty could be up to 50 years.

2. Light-weight and easy to install
The weight of stone coated metal roof tile is only 1/6 of the concrete or clay tile, only 5.20-6.40kgs per m2. It is easy to transport, store, and install. Averagely a roofer can install 500 m2 every single day.

3. Economy
The cost per square meter of stone coated metal tile is way lower than traditional tiles. And because it's much lighter too, you can save a lot on the roof frame and structure, like the rafters and battens, and save the installation cost too.

4.Noise reduction and heat insulation
The stone granules on the surface are specially made to avoid noise in rainstorm weather and to highly reflect the UV and prevent the temperature under the roof from rising dramatically on hot days.
Features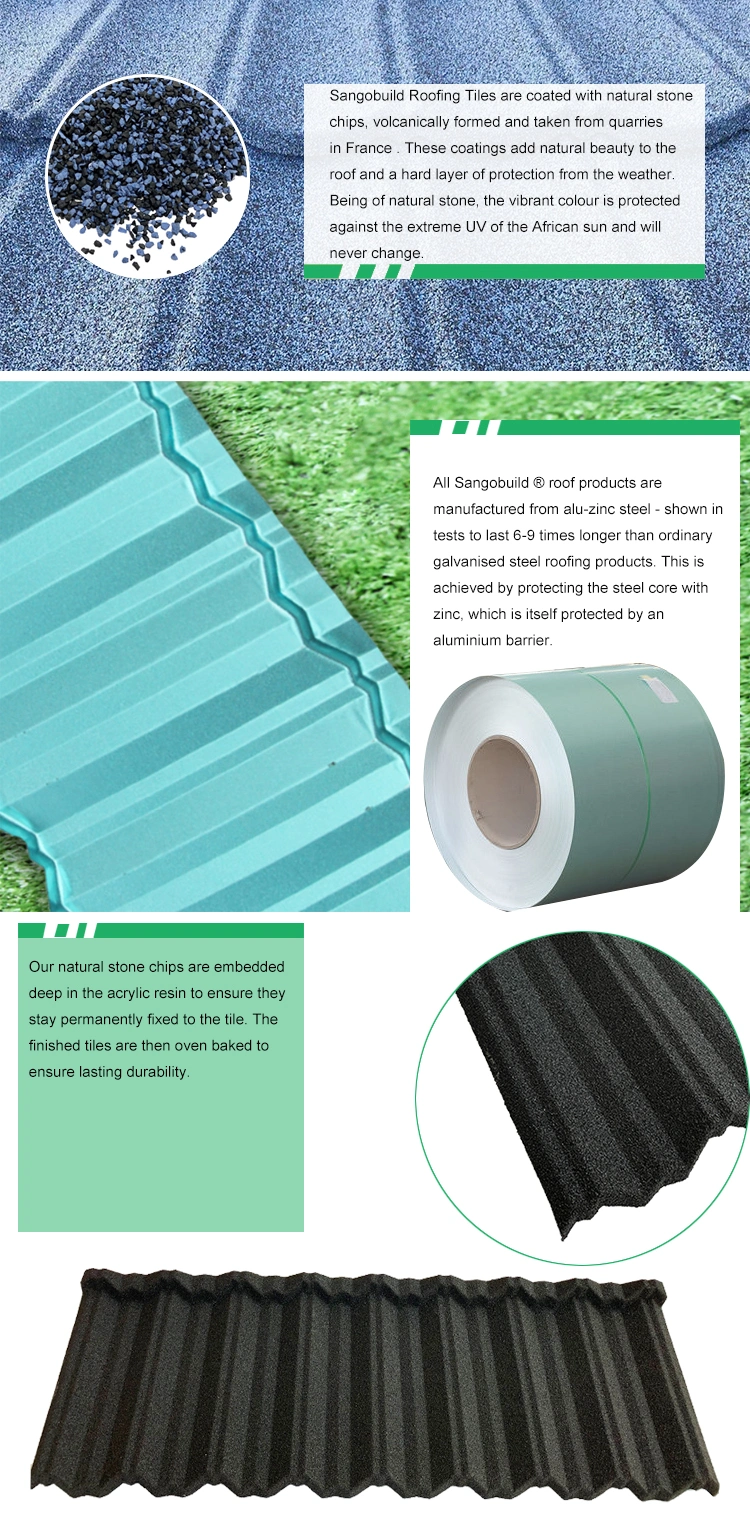 Close Up Photos of Products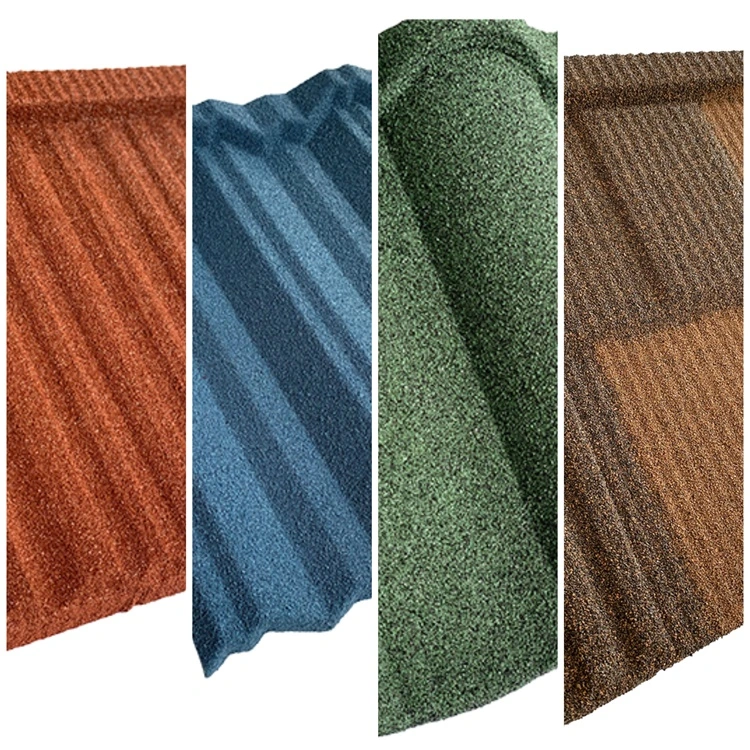 Available Colors (Customizable)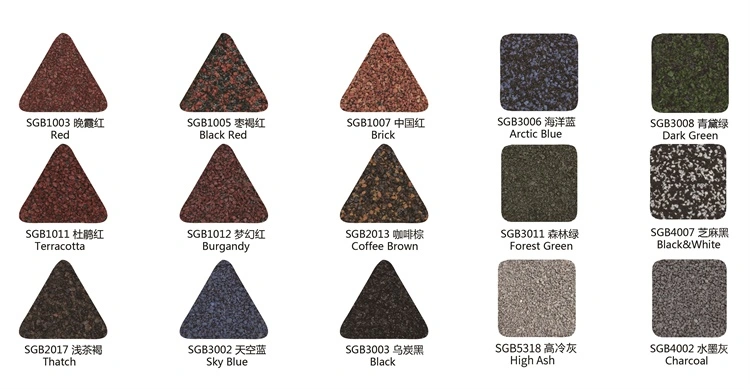 Accessories (Customizable)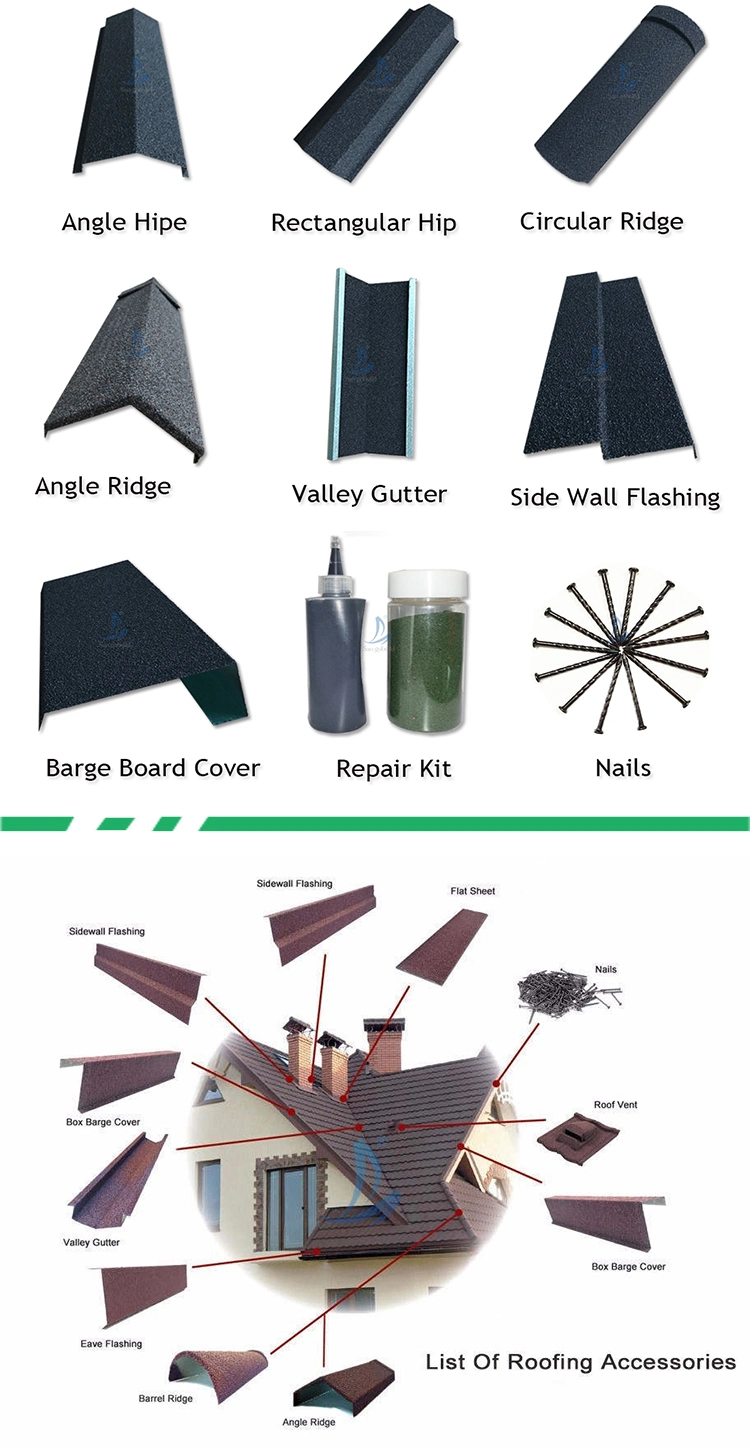 Installation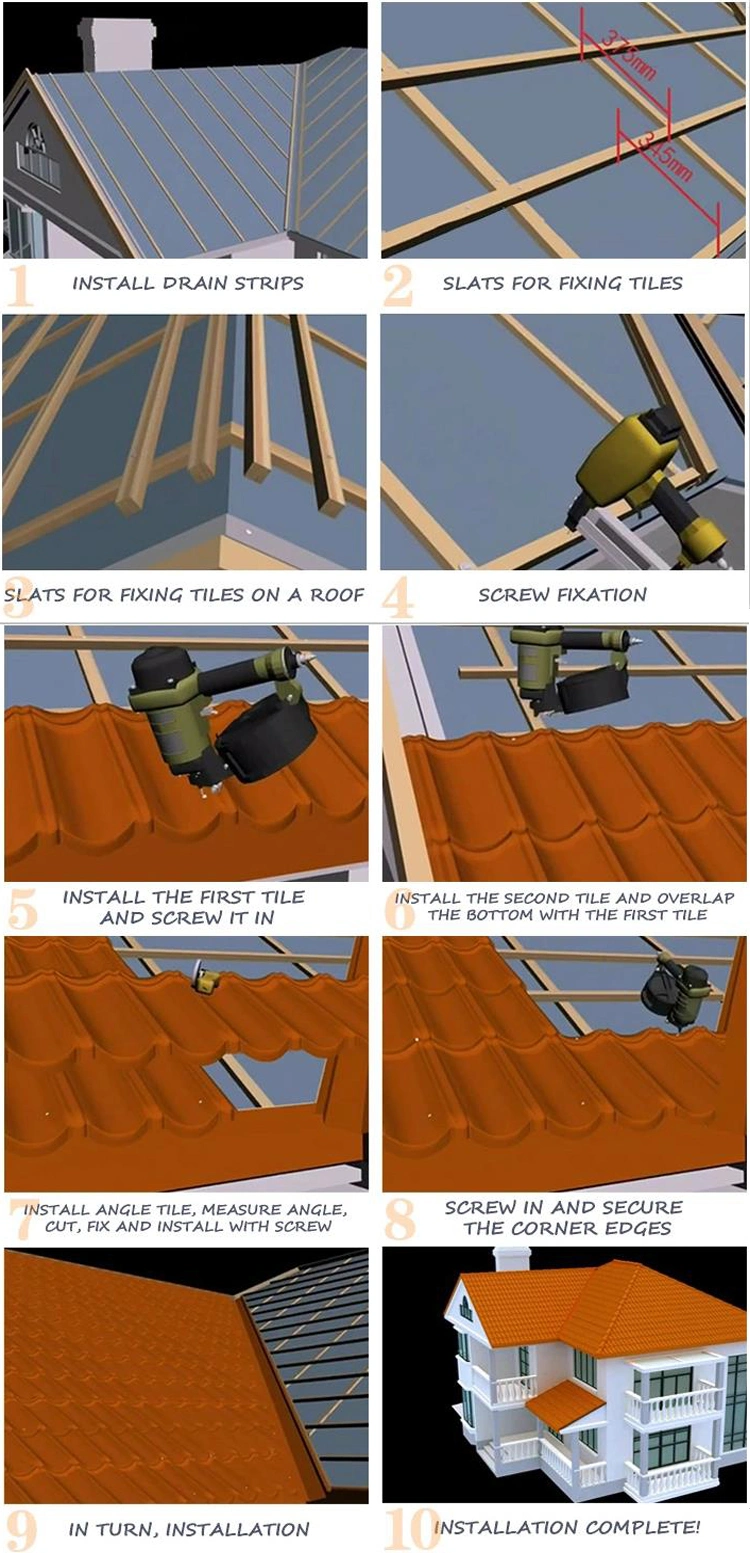 Factory and Facility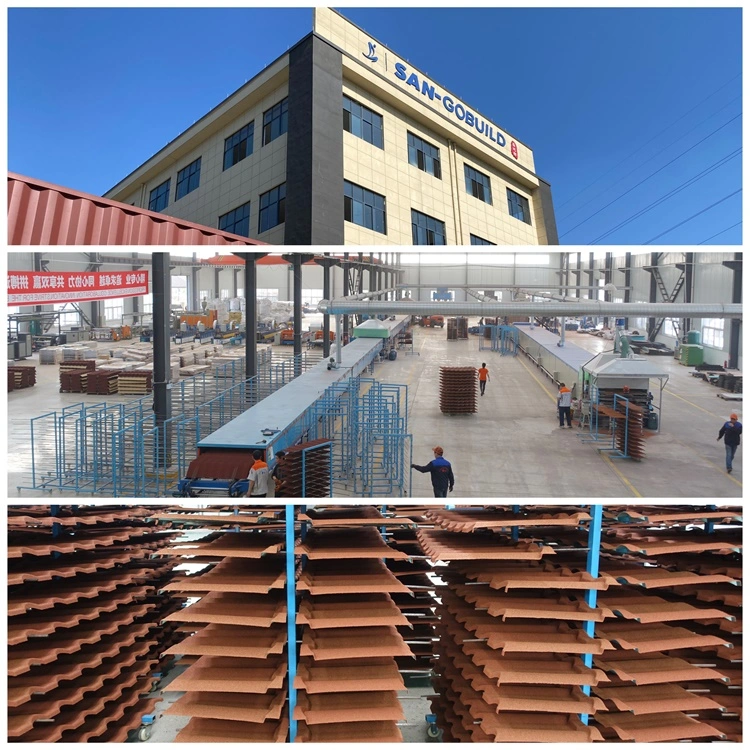 Packing and Loading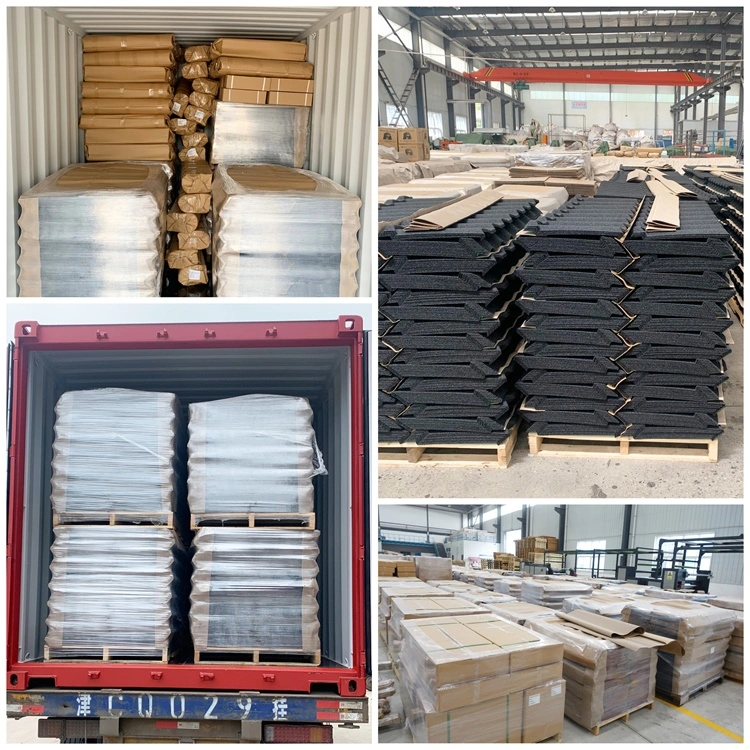 Company Teams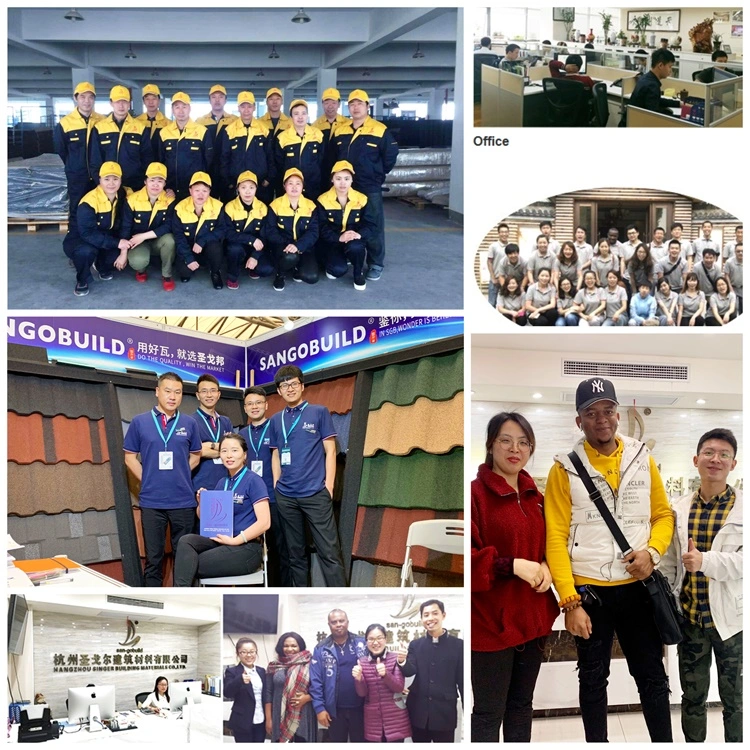 FAQ
Q:
How long is the stone coated tile's se
r
vice time?
A: The aluminum-zinc steel plate is stronger than other tiles and the glue spraying in the surface also adopts new technology. So our metal roof tiles' lifespan can be up to 50 years.
Q: Will a steel roof make my home hot in summer?
A:
No. A properly vented steel roof system can have a great air exchange
, and you can also improve it by installing our roof vents
.
Our products are very popular in tropical countries.
Q: Can you walk on a steel roof?
A:
Yes. but some care must be exercised while walking on the roof. Roofers walk all over the shingles during the
installation process.
Q: Is stone coated metal roofing tile noisy?
A:
No. The stone granule
s coated
surface can absorb the most noise even in a rainstorm.
Q: Is stone coated metal roofing system Heavy?
A:
Stone coated roofing tiles are truly lightweight. They are only 1/5 of clay or concrete tiles per sqm weight, but they are even stronger to resist terrible weather when properly installed.
Q: How long does it take to install steel tiles?
A: Because of its easy-installation chara
c
teristics, usually a single roofer can install 500 sqm of steel tiles each day.
Q:
What
'
s the maximum temperature can stone coated metal tile resists/endure
?
A:
It can endure over 100ºC temperature, and no damage or appearance change.
Q:
What
'
s the lowest temperature can stone coated metal tile resists/endure
?
A:
It can endure over -20ºC temperature, and no damage or appearance change.
Q:
Can stone metal tile resists hail/pounding
?
A:
It can resist the impact of 2.5
''
hail, and other poundings, without breakage, surface crack or stone chips peeling off.
Q:
Will the steel rust
?
A:
Our metal tiles are made of alum-zinc steel (also known as Galvalume steel), which is 6-9 times stronger than zinc steel on corrosion resistance.
Q:
Will the color fade
?
A:
The stone chips on the surface of Sangobuild roof tiles are natural volcanic basalt rocks and are processed with ceramic sintering technology, we guarantee the color will never fade in the first 10 years of use, and can still keep 90% original color when it
'
s service life is due.
Q:
How long do you need for production?
A:
Normally for 7-10 days