San-gobuild® Stone Coated Roofing Tiles
San-gobuild® stone coated roofing tile not only rich in colors, never to be faded away, modeling beautiful and stereoscopic effect, but also has light weight, waterproof, tough, heat insulation, sound insulation, anti-corrosion, antityphoon, earth quake resistance, fire resistance, stain-resistance, easy to install. We promise 50 years warranty, unti-fade color stone granule, enough thickness steel plate. Durable Modern Classical Stone Coated Metal Steel Roofing/Roof Tile

Due to its excellent quality, our products has been exported to Africa, Aemrica, Europe, Southeast Asia, Austrilia and so on.Durable Modern Classical Stone Coated Metal Steel Roofing/Roof Tile
Home to fasion, but also to health, this is the faith of our San-gobuild! The first class brand, the first class quality, excellent service is our consistent commitment! San-gobuild sincerely welcome you to come visit.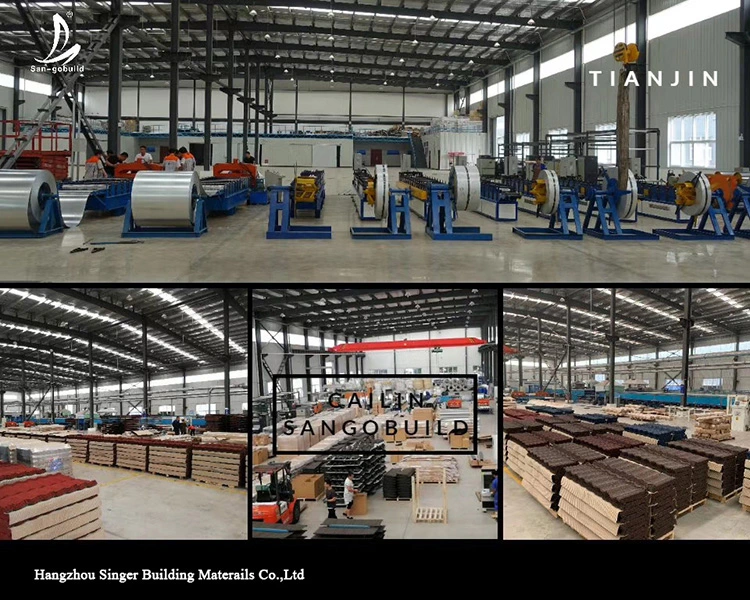 Model &Specification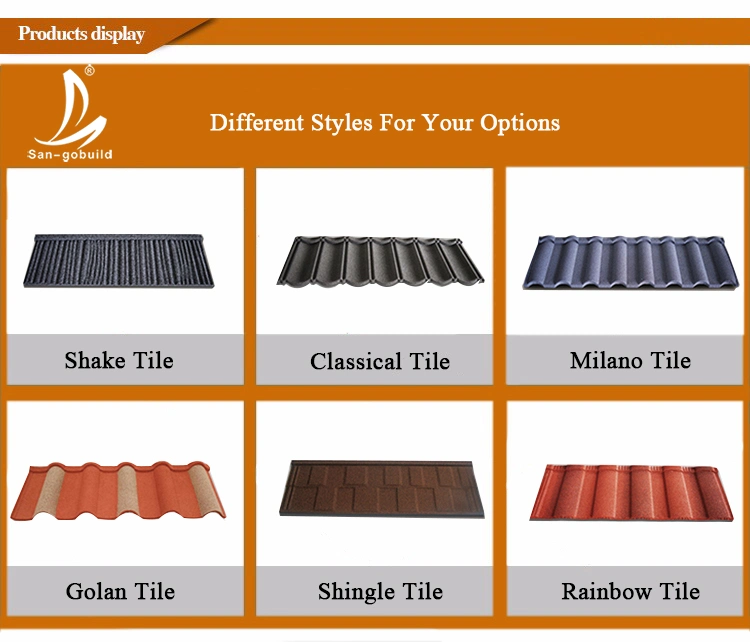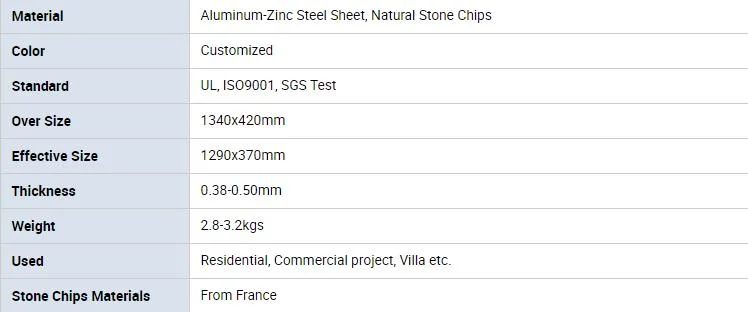 1) Offer 50yrs Warranty
2) 100% fadeless
3) Highly adapt to temperature changes, prevents rust,water leakage and corrosion,
Reduce rainwater noise
Eco-friendly and Recyclable
Insulation
4) Lightweight and big size: it's easy to transport, store and convenient to install (generally it takes 3-5 days for 2 workers to finish all the installation of metal roofing tiles of a common residence.
5) SANGOBUILD Acrylic resin glue has strong sticky strength and good weather resistance after cohere which make it difficult to separate from the roofs understorm.
Product Structure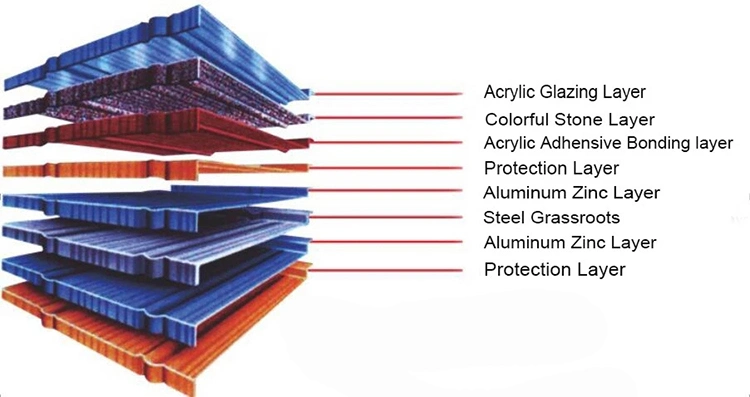 Steel-Galvalume Base Sheet
Coating composition is 55% aluminum in weight ratio (80% surface volume ratio), 43.4% zinc, and 1.6% silicon, so that long-term corrosion resistance and heat resistance of aluminum and galvanic be-havior effect of zinc may exert their characteristics most.
Namely, this is a product that ideally combines both characteristics of aluminum steel sheet and galvanized Steel sheet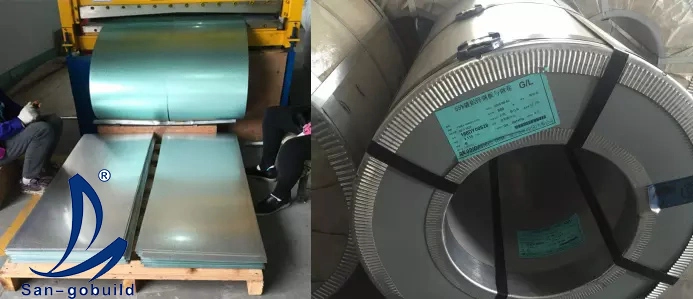 Sangobuild stone coated steel system uses only CARLAC stone chips which from France for its roofing granules. It provides long-lasting weather-resistant protection in an array of colors. CARLAC granules are dense non-porous UV-ray resistant and tough enough to stand up under handing. Made of a natural mineral product coated in ceramic the granules meet the toughest tests of time weather and marketplace.


Colors & Accessories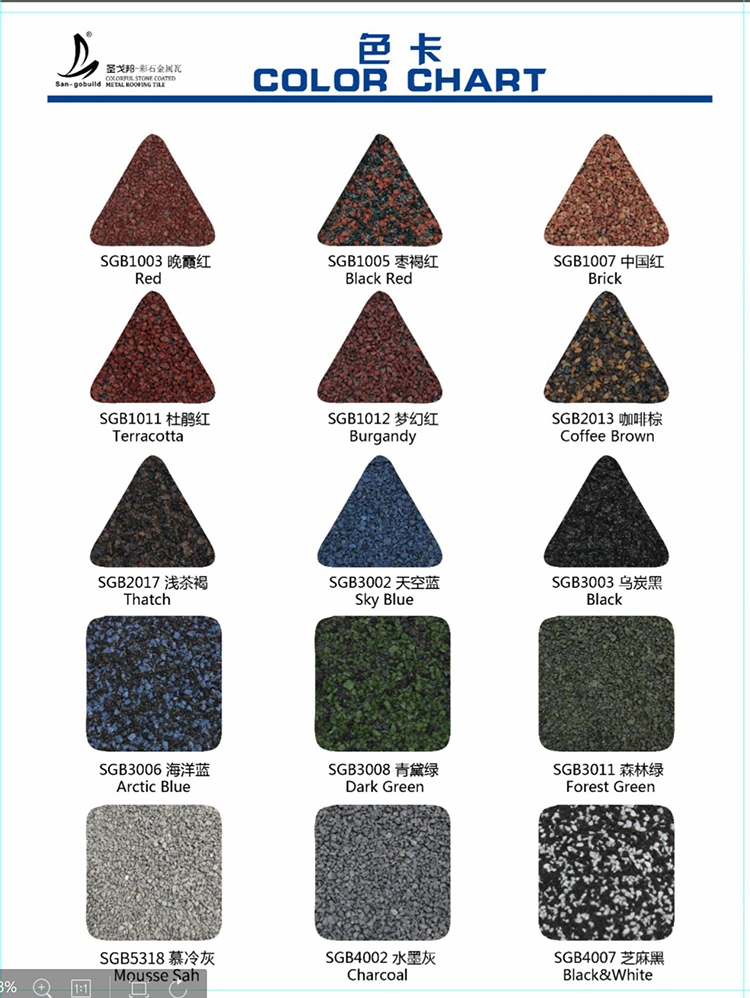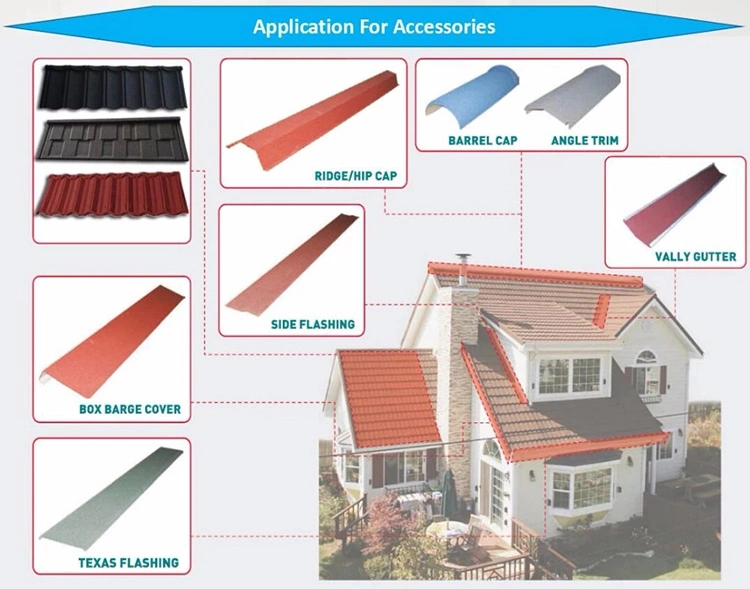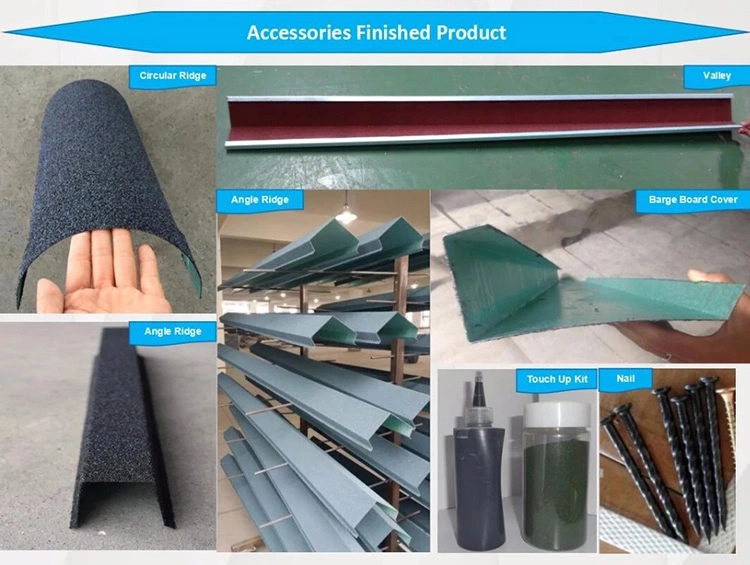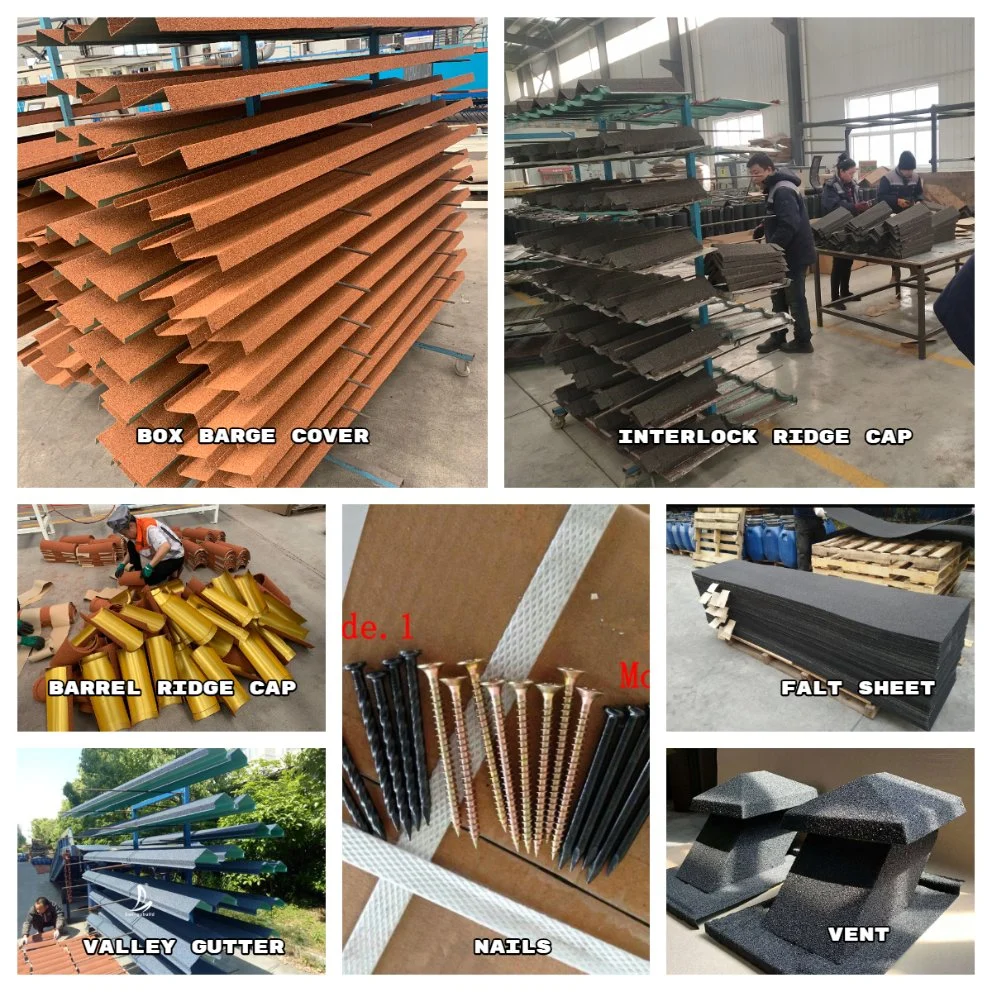 Project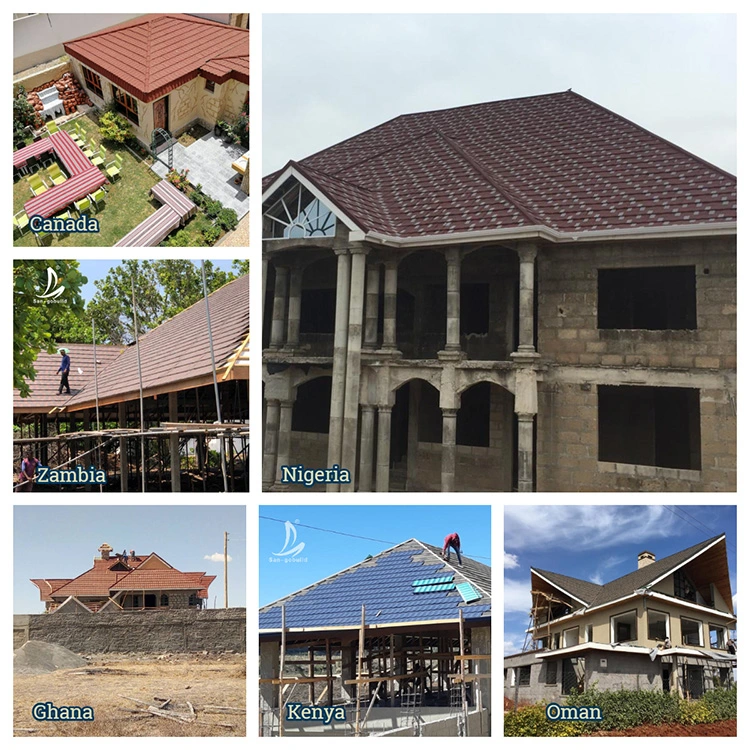 Package & Delivery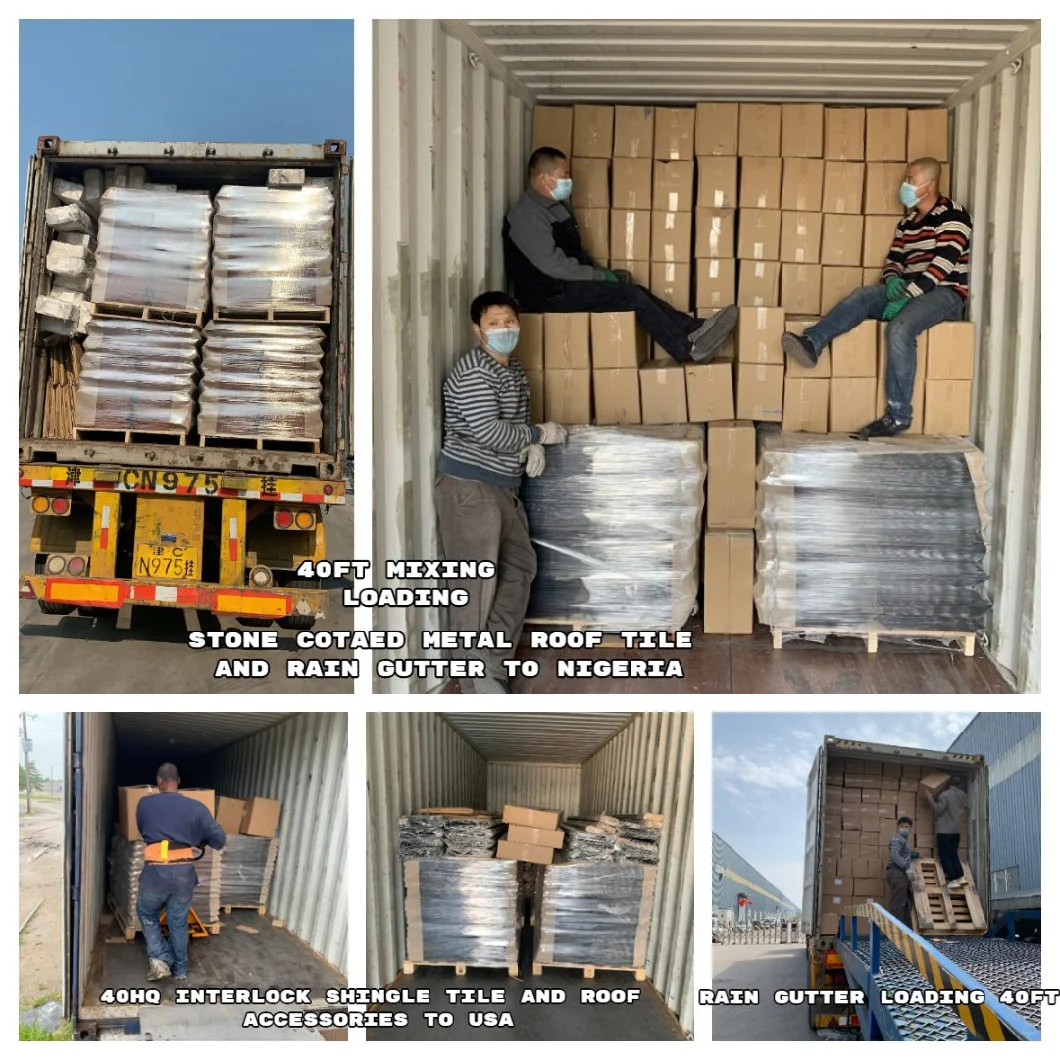 FAQ
1. Will the metal roof tile rust?
"Al-Zinc -coated steel coil",the corrosion resistance is mainly due to aluminum and aluminum protection.When the zinc is worn ,aluminum forms a dense layer of alumina,preventing further corrosion of the corrosive materials.

2.How about payment terms?
30% as deposit by T/T, 70% should be paid aginst B/L copy. LC is availiable too.

3.Are metal roofs noisy?
No, the stone-coated steel design deadens the sound of rain and hail, unlike a non-stone-coated metal roof.

4.Is a metal roof hotter in the summer and colder in the winter?
No. Many Sangobuild customers report a reduction in energy costs during summer and winter months. Also, a Sangobuild roof can be installed over an existing roof, providing additional insulation from temperature extremes.

5.Is a metal roof dangerous in weather with lightning?
No. Metal roofing is both an electrical conductor and a noncombustible material.

6.Can I walk on my Sanogobuild roof?
Absolutely. Sangobuild roofs are made of steel and designed to withstand the weight of people walking on them.

7.Could I buy this for small quantity?
Of Course,you can.We provide free samples and a small amount for customer reference and evaluation

8.What is the best reason to buy a Sangobuild Roofing System?
Our success in the industry. As the original stone-coated steel manufacturer.The advantages are as follows:
Economical efficiency,Easy installation and handling,Various color and beauty,Manufactured to international standards,Outstanding durability,Re-roofing,Reflectivity ,Corrosion resistance,Heat resistance.